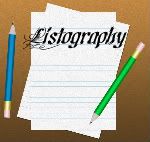 I love linkies. I love the traffic they bring in and I love the
competition
comparing
comraderie of everyone writing to the same theme. This week was especially linkalicious because of the
mug listography from Katetakes5
. Not only did I become addicted to seeing other people's mug collections, but there were prizes, and I won one of them with
this post
!
I'm not going to say I've never won anything before because I have. However, in a year of blogging I have yet to see a competition that wasn't for UK residents only. This time I wrote Kate a note saying that I would be visiting my sister in London very soon so I could therefore pick up any prize that I might win within the UK postal area and I just wanted her know in case it made a difference. She wasn't fazed by my geographcal location and I was thrilled to read
this post
today - Thank you Kate. Which all goes to show: it doesn't matter where you are, it's where you're at.
Art I Heart
So I decided to start my own linky. On Friday morning I will be launching
Art I Heart.
The format will be as follows:
1. Choose one piece of art that you love and that has a short personal story behind it. It could be something on your wall, something you've seen in a gallery and love, homemade art (a picture not sculpture or instalation art), on a postcard, on a birthday card, something by Degas or something by your DS.
2. Take, scan or download a picture of your picture and post it along with the short story about why you are drawn to it, have it on your wall, bought it, or hate it. Don't forget to link to the linky page so that your readers can see the other entries.
3. Link up, leave a comment, et voila!
I have white walls with lots of artwork and I love pictures so I'll be busy doing this forever. I'd love you to join me, obviously. Now I just need to find out how to upload a working linky and maybe work on a more original badge.