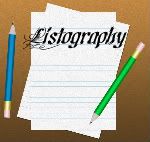 I saw the title of the latest Listography from
Kate Takes 5
(click on the link to read the other entries) and I knew my evening was shot. Who could resist finding five songs that you grew up to? Not me. I've said it before and I'll say it again, the best year for pop music was 1976. If you read the list of hits from that year it's winner after memorable winner. So it's back to my tweens and early teens for a little trip down Saccharine Lane.
1. My first choice from 1976, of course, is the theme tune from Mahogany (Do You Know Where You're Going To?) sung by Diana Ross. I've already written a whole post about being 14 years old and in love with myself, full of hope for the future, etc...,etc...
Read it and listen to it here
. It'll take you back to those innocent years of open doors and unburnt bridges.
2. A collection of three songs (I know I'm cheating a bit) featured in this post about
Songs I Have Loved
:
Georgy Girl by The Seekers (my Dad's favourite group) from the 1960s. I loved the film too. Click on S
ongs I Have Loved
and see a very young Lynn Redgrave having a bad hair day. My personal memory is of eating lamb chops and mashed potato for lunch and hearing this track whilst waiting for Listen With Mother on the radio. I also remember dancing around the house singing it without any clue as to what it meant.
The other two are both from 1976 (also in
Songs I Have Loved
with videos) Both songs that almost define the 1970s. The decade I needed to have long straight hair with a centre parting like Marcia Brady but never quite managed it. The only other must have was a flat stomach above my hipster stonewashed jeans. Oh, and more than one pair of Kickers.
3. Anything by Neil Diamond. When Love At The Greek came out in 1977 after his concert at The Greek Theatre in Los Angeles (in 1976 of course) - I was in love. I only had 20 Golden Greats at home but used to put on the tape next to my bed and end each day with Neil (just the two of us). Here is Beautiful Noise for you.
4. Other childhood loves included all the Davids: David Essex (he didn't look anything like he looks in Eastenders, honestly),
David Soul
(from Starsky and Hutch),
David Dundas
(Jeans On), and David Cassidy (obviously - I was a tweenager in the 1970s so it would have been odd not to). I Think I Love You. I think I saw the original episode of The Partridge Family in 1970.
5. Aw poor Karen Carpenter. Possibly the best female voice pop music has ever known. :(
With apologies to ABBA - I still listen to you as I wash my floors but they only allow 5 items in Listography. And thanks to Kate - not (I actually had things to do this evening.)