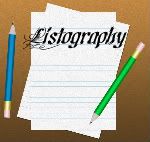 I've missed Listography and would love to do some summer lists. But Kate from
Kate Takes 5
is moving next month and just doesn't have the time for it atm. So, she's letting me borrow it until she's settled in her new home. Good luck for the move Kate!
The topic this week is:
5 Good Intentions for the Summer Holidays.
I suspect most of us have a vision of how we want it to be. Write your 5 good intentions for the summer holidays, post it, and add your name to the linky below, it's open for a whole week. Please don't forget to link back so your readers can see all the entries if they want to. If you want to do a follow up post in September with feedback it's up to you but I promise I won't check up on you. Mine are below.
5 Good Intentions for the Summer Holidays
I'm ready! I tested them in the bath.
1. Have a plan. Don't let the whole summer slip away watching dvds and counting the hours until DD's bedtime. Plan something for every day - it doesn't have to be a major outing. I have a list of possible activities that would only interest you if you lived in Jerusalem but I'm quite capable of not doing half of it. #procrastinatorsRus
2. Buy a pass to the local pool good for the whole of August. Use the pass every weekday morning before other activities. Well maybe not every weekday morning. And maybe not morning..... No, EVERY WEEKDAY MORNING!
3. Our summer holidays are very clearly defined as July and August. DD has kindergarten camp until 2pm during July so, being a teacher myself, I have some free time. I also have an electric piano that I bought 20 years ago with the intention of learning to play. Since then I've got almost all the way through the John Thompson's First Grade Piano book - about three times. And I have my original recorder books from school (aged 11), level 1 and 2 for descant recorder. My Recorder is not the original but bought about 10 years ago with the same purpose as the piano. I intend to spend at least 20 minutes on each instrument every day during July. This morning I set up the piano, dusted it, and located Middle C. Well it's a start.
4. I'd like to say that I'll make a weekly meal plan but I won't. Or if I do we won't stick to it. Instead I've made a list of healthy DD-friendly meals and my good intention is to choose from it and cook the meals on time so that we don't resort to toasted cheese sandwiches every day out of desperation.
5. Teach DD to read. I know that's a biggy but I believe she's ready and she has all the pre-reading skills pretty much learnt. The goal is for her to read Harry Potter to me on September 1st. Just kidding. No goals, just see how far we get but definitely do some 'reading' every day - even if it's only 10 minutes.