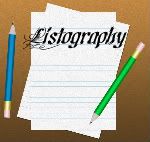 After last week's spectacular display of mugs an and *ahem*
my winning post
, this week's Listography is the top five things that make me happy (apart from
my winning mugs
of course). If you're not feeling too chipper yourself and need some good ideas about what might perk you up you can
visit the Listograpgy Linky and read loadsovem
.
My Happy High Five
1. Mozart's Clarinet Concerto (2nd movement). Just click and listen while you're reading the rest of this post and you'll know why.
2. Bedtime stories. No not for me, although I do enjoy reading in bed. Stories for my 3yo. We lie in the bed together, sharing the pillow. Her warm little face pressed up against mine. We negotiate how many stories she can choose depending on the hour. Then I read with her commenting and contributing throughout. And then she starts to yawn and her input becomes less and less. A kiss and a cuddle and I turn off the light. She then spends the next two hours coming out of her room to go to the toilet, tell me something important, collect a stray teddy, have me kiss an imaginary wound...
3. Making order out of chaos. This includes writing lists, sorting out clothes cupboards, folding and putting away laundry, tidying in general and rearranging to make better use of the space. Mad I know but it really does make me happy and it actually makes me more productive, less likely to eat too much, and less stressed all round. As I write I'm wondering why it should be that this is any more strange than gardening or jogging to nowhere for the shear sweatiness of it.
4. Writing and blogging. The combination of writing and, with the click of a mouse, sending it off to be read by an infinite number of people (in theory) is simply intoxicating. And if anyone comments, well then I'm just in seventh heaven. Stats? Better than uppers on a good day. As soon as DD's in bed it's blog o'clock and I'm off!
5. Love and laughter. Sharing a good time with friends whether it be actually in the same place together or bantering on fb has to be the best feel-good medicine there is. Old friends, new friends, or friends I haven't even met yet (not so strange for a blogger), I'll always appreciate a little humour.
So there you have it. Please don't feel you have to rush off before the music finishes. Why not take the time to write a comment or six?