Art I Heart



<><><><><>

>
Share the art you love from your walls, a birthday card, what your child drew at school, that you saw in The National Gallery in London...
1. Choose one piece of art that has a short personal story behind it. It could be something on your wall, something you've seen in a gallery and love, homedrawn, on a postcard, on a birthday card, something by Degas or something by your DS.
2. Take a photograph, scan or download a picture of your picture and post it along with the short story about why you are drawn to it, have it on your wall, bought it, or hate it. Don't forget to link back to the linky so your readers can see the other entries.
3. Link up (it's open till next Thursday, 4pm GMT), leave a comment, et voila!
Here's mine: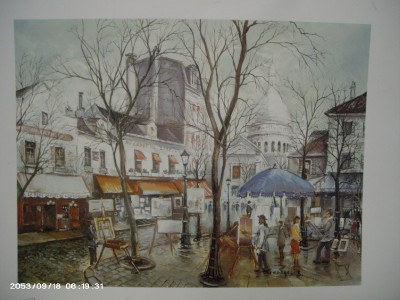 La Place Du Tertres, Paris, by Georges B.
(This is a print I found on ebay as my attempts to photograph my own copy were unsuccessful.)
In the late 1960s four little girls went to primary school together in England. Then they went to the same secondary school. At 14 one of them emigrated with her parents to America. In her 20s another emigrated to Israel (me!) and ten years later, one moved with her own family to the south coast of England. They sort of kept in touch by heresay, gossip and occasional visits. Then came email, then came Friends Reunited and they reconnected.
It was 2002 and an idea was born to celebrate our 40th birthdays with a trip to Paris - 4 friends, 4 days, turning 40. In fact I was already 41 when we finally made the trip but it was wonderful. We fitted together like long lost friends (funnily enough). We needed to learn about each other's lives now (then) but there was no getting-to-know-you involved. We knew each other's childhoods, families, even the wallpaper in our teenage bedrooms. Surreal in a way but so easy to talk and talk and talk and talk. We also walked and walked and walked. And
ate these (see number 5).
I had recently bought my first home and moved in. I'd wiped out my savings and was on a tight budget. I desperately wanted a souvenir of this trip and I really wanted a painting. The artists' market in Monmartre had beautiful scenes of Paris - starting at about 250 Euro. I resigned myself to not buying art.
Stopping to buy postcards I found this large-size (A3) postcard of a painting of La Place Du Tertre, Monmartre. It cost half a Euro. When I got home I found an old frame bought in John Lewis years before and mounted my postcard. I had my piece of art from Paris for 50 cents and I love it. Here it is in situ above my kitchen sink: